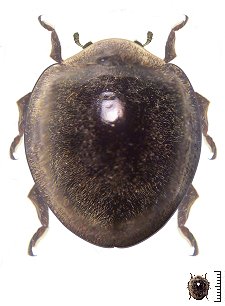 Coelaria erythrogaster
(Mulsant, 1850)
Diagnosis: Forma oblonga de color negro con visos verdosos y abundante pilosidad amarillenta. Lado inferior negro excepto antenas y piezas bucales con tinte amarillo. El abdomen es rojo y las patas negras.

Distribución: Bolivia (Santa Crúz), Brasil (Pernambuco, Rio de Janeiro), Paraguay (San Pedro). Nuevo registro para Paraguay (ver abajo).
Tamaño: 7,0 a 11,0 mm.
Observación: Se caracteriza por su gran tamaño, el abdomen rojo y las excavaciones en los hipómeros. Similar a una Exoplectra de gran tamaño.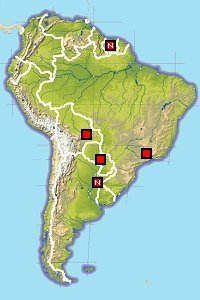 Nota: el lectotipo se encuentra depositado en el Musée des Confluences (ex Musée Guimet ) d'Histoire Naturelle de Lyon, Francia (MHNL).
En la naturaleza:
Un gran ejemplar luce su tupida pilosidad sorprendido en Nova Iguaçu, estado de Río de Janeiro
(fotos Diogo Luiz, Brasil).
Sinonimia:
Exoplectra erythrogaster Mulsant 1850:916, 1042.
Coelaria erythrogaster Crotch 1874:283; Korschefsky 1932: 229; Blackwelder 1945: 451Blackwelder 1945:451; Churata-Salcedo & Almeida, L.M, 2017:4.
Bibliografía:
Blackwelder R. E. 1945. Checklist of the Coleopterous Insects of Mexico, Central America, the West Indies, and South America, Part. 3, United States National Museum Bulletin 185: 343-550.
Churata-Salcedo J.M. & Almeida, L.M, 2017. Review of Coeliaria (Coleoptera: Coccinellidae: Chnoodini). Zoología 34: 1-11.
Crotch G.R. 1874. A revision of the Coleopterous Family Coccinellidae, University Press, London, 311 p.
Korschefsky R. 1932. Coleopterum Catalogus, pars 120 Coccinellidae II, W Junk: Schenklink, 281 pp.
Mulsant E. 1850. Species des Coleopteres Trimeres Securipalpes, Ann. Sci. Phys. Nat. Lyon, ser.2, vol. 2, pp. 1-1104 .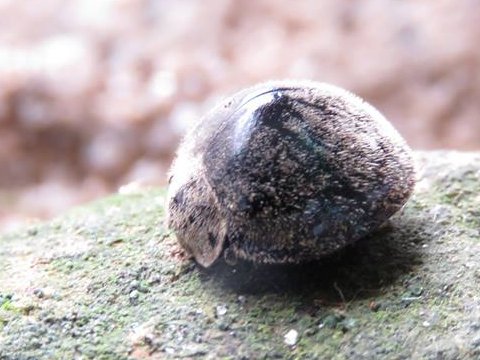 Vistas dorsal, ventral, lateral, frontal y posterior.
Especímen de Paraguay, San Pedro, Cororo. XI-1983. [Leg.] M.J.Viana / ex. col M. Viana (JEBC).