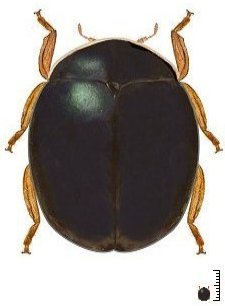 Nota: textos e imágenes adaptadas de Milleo & Almeida (2003) y Canepari et al. (2016). Conocido solo del lectotipo y paralectotipo hembras en UMZC.

Tiphysa egae
(Mulsant, 1850)
Diagnosis (hembra): Forma ovalada y convexa. Cabeza negra y zona fronto-clipeal amarilla, con borde triangular. Pronoto negro con brillo verde azulado y un delgado borde anterior y lateral amarillos. Élitros negros con brillos verdosos. Lado inferior rojo amarillento, con cabeza y zonas centrales del pro-, meso- y metasterno negros. Abdomen, piezas bucales, antenas y fémures rojo amarillentos.
Variación: el color varía de negro azulado a negro verdoso (Canepari et al 2003). Zona amarilla en borde del pronoto más ancha en el macho (Milleo & Almeida, 2003).
Tamaño: 4,0 a 4,9 mm.
Distribución: Brasil (Amazonas).
Observaciones: Canepari et al. (2016) indica que no está clara la identidad de las especies del género y que se requiere de más material para aclararla.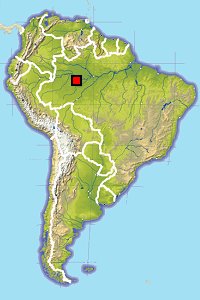 Sinonimia:
Tiphysa egae Crotch, 1874: 210; Korschefsky, 1931: 208; Blackwelder, 1945: 449; Gordon, 1987: 26; Milléo & Almeida, 2003: 280.Canepari et al. 2016:134.
Bibliografía:
Blackwelder R. E. 1945. Checklist of the Coleopterous Insects of Mexico, Central America, the West Indies, and South America, Part. 3, United States National Museum Bulletin 185: 343-550.
Canepari C., R.D. Gordon & G.A. Hanley 2016. South American Coccinellidae (Coleoptera), Part XVII: Systematic revision of the genera Cyrea Gordon and Canepari and Tiphysa Mulsant (Hyperaspidinae: Brachiacanthini). Insecta Mundi 0486: 1-180.
Crotch G.R. 1873. Revision of the Coccinellidae of the United States. Transactions of the American Entomological Society, Philadelphia, 45: 363-382.
Gordon, R. D. 1987. A catalogue of the Crotch collection of Coccinellidae (Coleoptera). Occasional
Papers on Systematic Entomology 3: 1-46.
Korschefsky R. 1931. Coleopterum Catalogus, pars 118 Coccinellidae I, W Junk: Schenklink, 124 pp.
Milléo, J. M., and M. Almeida L. 2003. Revision of the Genus Tiphysa Mulsant (Coleoptera, Coccinellidae, Hyperaspinae). Coleopterists Bulletin 57: 274-280.



Vistas dorsal, frontal, lateral y posterior.
Espécimen hembra de "Brasil, Amazonas, Tefé" (UMZC)




Hembra: Aparato genital