Zenoria pilosula
Mulsant, 1850
Diagnosis: Forma redonda algo alargada. Cabeza amarilla. Pronoto marrón negruzco con borde anterior y lateral anterior amarillos. Escutelo y élitros amarillo rojizos. Lado inferior amarilo rojizo. Puntuación elitral profunda y notoria. Pilosidad dorsal blanca grisacea. Piezas bucales, antenas y patas amarillas.
Variación: el lectotipo y otros ejemplares con color dorsal homogeneo, marrón amarillento, rojo anaranjado o rojo oscuro, a veces con bordes delantero y lateral del pronoto amarillos.
Tamaño: 3,3 mm.

Distribución: Colombia (Bolivar), Guayana Francesa (Cayena).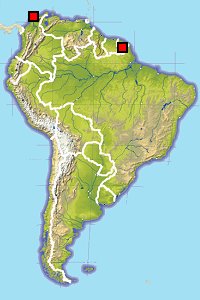 Observaciones: segun Gordon (1971) la especie se reconoce por el colorido rojo amarillento dorsal y ventralmente.

Nota: textos e imágenes adaptados de Gordon (1971) y Santos (2015). Lectotipo hembra depositado en en Musée de Confluences, Lyon, Francia (MNHL).
Sinonimia:
Zenoria pilosula Mulsant, 1850:900; Crotch 1874:277; Korschefsky 1931:108; Blackwelder 1945:108; Gordon 1971:7; Gordon 1972:435; Almeida, 1995: 328; Santos 2015:66.
Bibliografía:
Almeida L. M. 1995. A new species of Zenoria Mulsant from Brazil (Coleoptera: Coccinellidae). Journal of The New York Entomological Society 103(3): 324-328.
Blackwelder R. E. 1945. Checklist of the Coleopterous Insects of Mexico, Central America, the West Indies, and South America, Part. 3, United States National Museum Bulletin 185: 343-550.
Crotch G.R. 1874. A revision of the Coleopterous Family Coccinellidae, University Press, London, 311 p.
Gordon R.D. 1971. A revision of the genus Zenoria Mulsant (Coleoptera: Coccinellidae). Smithsonian Contributions to Zoology 86: 1-22.
Gordon R.D. 1972. Additional notes on the taxonomy of the genus Zenoria (Coleoptera: Coccinellidae).Proceedings of the Entomological Society of Washington 7(4): 433-442.
Korchefsky R. 1931. Coccinellidae I. In: Coleopterorum Catalogus. Berlin, W. Junk, 118: 1-224.
Mulsant E. 1850. Species de Coleóptères Trimères Sécuripalpes, Paris, Lyón, 1104 pp.
Santos P.B. 2015. Filogenia do gênero Neotropical Zenoria Mulsant, 1850 (Coleoptera, Coccinellidae, Ortaliinae). Dissertação [….] de Universidade Federal do Parana [….], Curitiba (Tesis no publicada).




Vistas dorsal, frontal, lateral y posterior . Variaciónes: vista dorsal (3), vista ventral (1)
Espécimen hembra de "Guayana Francesa" (MNHN). Variaciones: 1) Lectotipo hembra de "[Colombia, Bolivar] Carthagene", "LECTOTYPE / Zenoria / pilosula / Muls. / Gordon 1970" "♀" [MNHL Col. Dejean] 2) hembra de "Guayana Francesa" (MNHN), 3) y 4) macho de "Guayana Francesa" (MNHN).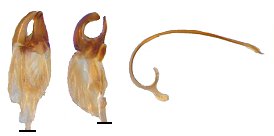 Falobase en vista oblicua y lateral. Sifón en vista lateral.



Hembra: abdomen, espermateca, coxitos.