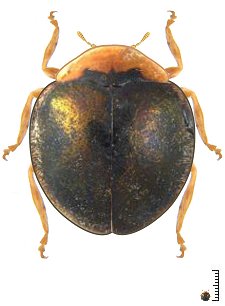 Zenoria subcostalis
Mulsant, 1850
Diagnosis: Forma redonda apenas alargada. Cabeza amarilla. Pronoto amarillo con la mitad central de la base angostamente negra, tridentada. Escutelo negro. Élitros negros con brillos verdosos o purpura. Lado inferior amarillo. Piezas bucales, antenas y patas amarillas. Pilosidad amarillo blancusca.
Variación: la franja negra del pronoto puede estar muy reducida a casi un punto. Los élitros pueden tener el 1/3 posterior amarillo, o ser amarillos con una franja sublateral negra desde detrás del húmero hasta la sutura en el ápice donde puede ensancharse o angostarse, pudiendo presentar además un punto negro discal.
Tamaño: 3,1 a 3,3 mm.

Distribución: Colombia (Cundinamarca, Magdalena, Valle del Cauca), Guayana Francesa.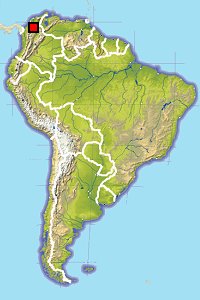 Sinonimia:
Zenoria subcostalis Mulsant, 1850: 899; Crotch, 1874: 277; Korschefsky, 1931:108; Blackwelder, 1945:443; Gordon 1971:6; Gordon 1972: 433; Gordon 1987: 33; Almeida, 1995: 326; Santos 2015:69.
Bibliografía:
Almeida L. M. 1995. A new species of Zenoria Mulsant from Brazil (Coleoptera: Coccinellidae). Journal of The New York Entomological Society 103(3): 324-328.
Blackwelder R. E. 1945. Checklist of the Coleopterous Insects of Mexico, Central America, the West Indies, and South America, Part. 3, United States National Museum Bulletin 185: 343-550.
Crotch G.R. 1874. A revision of the Coleopterous Family Coccinellidae, University Press, London, 311 p.
Gordon R.D. 1971. A revision of the genus Zenoria Mulsant (Coleoptera: Coccinellidae). Smithsonian Contributions to Zoology 86: 1-22.
Gordon R.D. 1972. Additional notes on the taxonomy of the genus Zenoria (Coleoptera: Coccinellidae).Proceedings of the Entomological Society of Washington 7(4): 433-442.
Korchefsky R. 1931. Coccinellidae I. In: Coleopterorum Catalogus. Berlin, W. Junk, 118: 1-224.
Mulsant E. 1850. Species de Coleóptères Trimères Sécuripalpes, Paris, Lyón, 1104 pp.
Santos P.B. 2015. Filogenia do gênero Neotropical Zenoria Mulsant, 1850 (Coleoptera, Coccinellidae, Ortaliinae). Dissertação [….] de Universidade Federal do Parana [….], Curitiba (Tesis no publicada).




Observaciones: Esta especie presenta algunas variaciones que son facilmente reconocibles, pero por su gran variabilidad otras son dificiles de identificar. El aparato genital del macho la aproxima a Z. pilosula y Z. ratzerburgi, especies muy diferentes en otros aspectos.
Nota: textos e imágenes adaptados de Gordon (1971) y Santos (2015). Lectotipo depositado en la Colección Crotch de la Universidad de Cambridge, GB (UCCC).


Vistas dorsal, frontal, lateral y posterior. Variaciones (3): vista dorsal.
Especimen adaptado de Santos (2015).Variaciones: adaptadas de Gordon (1971).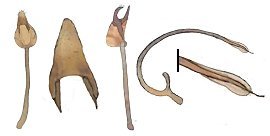 Tegmen y lóbulo basal en vista dorsal. Tegmen en vista lateral. Sifón y detalle del ápice.